RLW-A Adaptive Remote Laser Welding Optic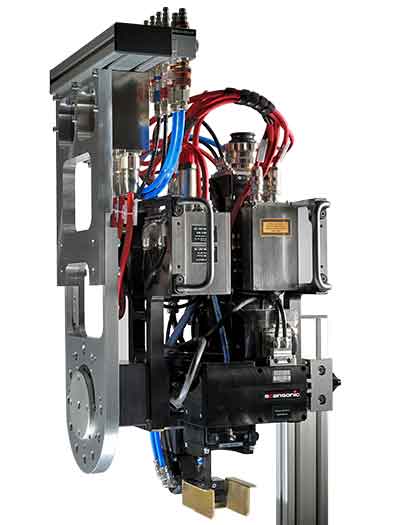 Adaptive Laser Welding with On-the-Fly Seam Tracking
Scansonic's RLW-A was developed with an efficient, optimized production head to allow the welding of fillet welds in a lap joint with a unique remote laser technique. Current vehicle body production mainly utilizes overlap joints. With RLW-A, those overlap joints are replaced with more economical fillet welds, which reduces the necessary length of the flanges. These reduced lengths achieve cost savings and contribute to a more stable process using less laser energy for the same seam cross-section.
RLW-A Advantages:
Highly efficient fillet welding process allows the reduction of material for flange application in the chassis of a vehicle
The large working distance allows traveling over clamps and fastening fixtures
Highly precise seam tracking via the positional determination being coaxial to the laser beam
Long working distance and less pollution through process splashes, smoke, etc.
Uses the groundbreaking Scansonic Scapacs® modular system, meaning almost all types of optical characteristics, fiber couplers or Fieldbus interfaces are configurable
Durable and complete solution with an ultra-modern master design that includes actuators, sensors and Fieldbus-based controllers
Joint Recognition and Adaptive Positioning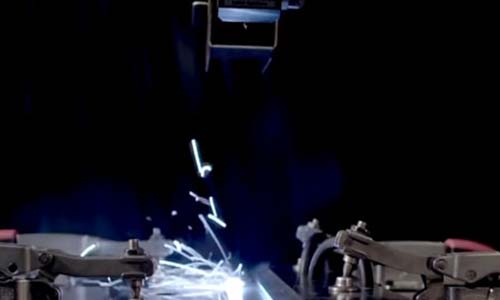 Optical seam tracking using laser triangulation integrated into the welding head, which recognizes the joint and positions the laser beam directly where it is required. Due to the high working distance, the head can pass over the tooling and workpiece contours. The processing time is substantially reduced in comparison to tactile systems and slightly higher regarding standard laser remote heads.
Highly Dynamic Seam Tracking with Added Features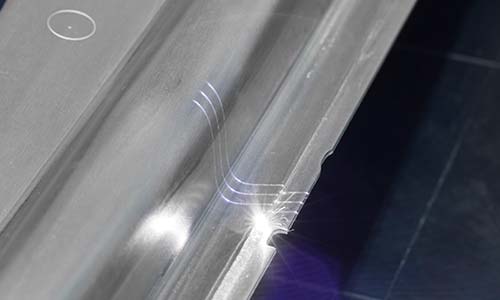 The RLW-A combines optical seam tracking with high dynamic scanners. This enables the welding of difficult 3D geometries with a wide range of joint types. During the robot movement, the RLW-A detects and follows the seam by adjusting the mirrors via galvo motors according to the seam tracking measurement data. Additional features available with this system are beam oscillation, automatic gap bridging, and "SCeye" vision-based monitoring.
RLW-A Product Review
RLW-A with Vertical Gap Bridging
What is Remote Laser Welding?
RLW-A Aluminum Door Process

Technical Specifications
| | |
| --- | --- |
| Power supply | 400 V / 32 A (extern), 24 V / 55 A (intern) |
| Weight | approx. 25 kg |
| Operating wave length | 1030 ... 1080 nm (thin-disc laser to fibre laser) |
| Permissible laser power | max. 8 kW |
| Total angle of divergence Φ; BPP | Φ = 250 mrad (99 % of power capacity); BPP ≤ 25 mm∙mrad |
| Current magnification factor | 1:2.9 |
| Field size | X = ± 32 mm / Y = ±16,5 mm / Z = ± 10 mm |
| Operating clearance | approx. 280 mm, with focal distance f = 500 mm |
| Dynamic positional accurracy | X = 0,1 mm / Y = 0,1 mm / Z = 0,5 mm |