ALO3 Laser Brazing and Welding Optic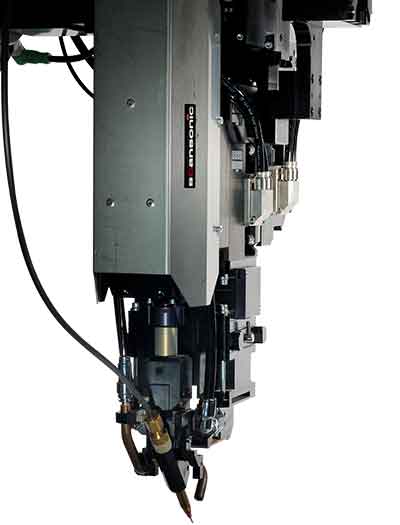 Adaptive Laser Brazing
The ALO3 (adaptive laser optic) laser processing head with integrated tactile seam tracking is capable for CW-Laser in the 880 -1070 nm range. The patented tactile seam tracking process allows the ALO3 to find the beginning of seam accurately and guide the process along the seam. Component allowances with ALO3 are automatically balanced. The independent system with seam tracking integrates to every guiding machine and is controlled by digital In-/Outputs or Interbus.
ALO3 comes equipped with the SCeye package, a fully integrated imaging process monitoring system consisting of a coaxially integrated camera and process lighting. The system is completed by a powerful evaluation electronics, which is able to process the image data in real time.
Metal and Joint Profiles:
For steel and aluminum
Y-seam at flange welds
Fillet weld at the Lap joint or T-joint
Acceptable Lasers:
Diode laser from Laserline
Solid-state laser-like rod laser or disk laser from Rofin or Trumpf
Fiber laser from IPG
ALO3 Features at a Glance:
Laser Brazing at it's Most Precise and Efficient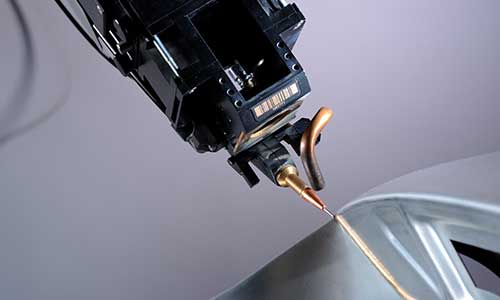 ALO3 comes equipped with a slew of technologically advanced features to make the brazing of complex assemblies reliable and efficient, including:
Telescoping arm TA-Fix
Telescoping arm TA-Motion
Inclination Sensor (Neigo)
Autofocus
Single or double-angled
Camera and cross-hair generator
High precise tool changer
Hot-wire up to 100 or 230 A
Interbus, Modbus, Profibus
Shielding gas stinging or coaxial
SCeye Monitoring System Reduces Setup & Boosts Productivity
In the light of automated systems, short cycle times and low error tolerances, the SCeye optimal process monitoring system from Scansonic ensures the quality of workpieces, prevents expensive reworking or rejects and thus makes a decisive contribution to productivity.
SCeye works as an integrated imaging process system. This system consists of a coaxially integrated camera with process lighting to get reliable imaging of the brazing process.
These high-tech cameras and powerful evaluation electronics transmit all vital information about the process continuously and in real-time for perfect seams — and optimally controlled production.
SCeye can work either independently or integrate into the ALO3 Adaptive Laser Optic.
ALO3 Laser Brazing Door Assembly
ALO3 SCeye Process Monitoring
Technical Specifications
| | |
| --- | --- |
| Weight | 20 kg |
| Dimensions (L x W x H) in mm | 100 x 200 x 300 |
| Laser protection class | 4 |
| Wave length | 880 - 1070 nm |
| Working space | lateral Y: +/- 15 mm, height Z: +/- 10 mm |
| Laser power | for CW-Laser until 6 kW |
| Focal length | 141 - 250 mm |
| IP-class | 67 |
| Power supply | 24 V / 10 A |
| Parameterization | via Ethernet |
| Connection | different manufacturer for wire feed |
| Special features | cover slide drawer, integated crossjet |