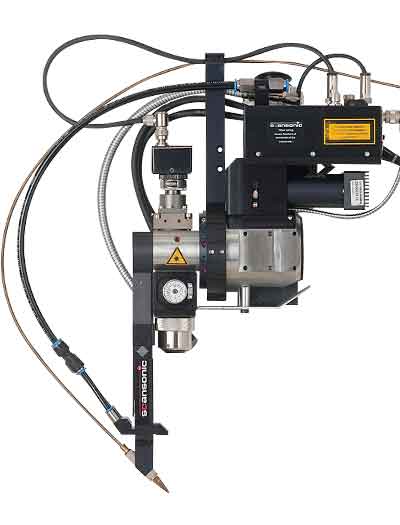 Simple, Integrated Seam Tracking for Laser Brazing
The ALO1 is an adaptive laser optic with integrated tactile seam tracking through filler wire.
The patented tactile seam tracking process with integrated seam tracking allows the ALO1 to find the beginning of seam accurately and guides the process precisely along the seam.
ALO1 comes with an optional camera and crosshair generator, an objective with lateral adjustment feature, shielding gas coaxial, hot wire feed up to 230 amp, and a balance weight for use in a vertical position.
ALO1 Product Features:
Lightweight 1" optic
Precise seam tracking by tactile sensor via filler wire
Laser processing head for CW laser up to 4 kW
Robot adaption user-defined
Parameterization via an external controller
Integrated cross jet
Cover glass retainer with long jet
Technical Specifications
| | |
| --- | --- |
| Wave lengths | 900 ... 1030 nm; 1064 nm, 1080 nm up to 4 kW |
| Reproduction ratio | 2.0:1 - 2.5:1 - 3.2:1 - 4.0:1 - 5.3:1 |
| Fiber coupling | Trumpf B or Typ D (LLK Auto) |
| Laser | CW-Laser up to 4 kW |
| Working range height (Z) | ± 5 mm |
| Robot adaption | user defined |