OMEGA Series MIG Welding Torch

The quality air-cooled torch for a range of welding applications: automotive, shipbuilding, railroad, aircraft and off-road equipment and construction.
OMEGA Series cables and rears features the signature ABICOR BINZEL Bikox® power cable, which features a rubber inner wire conduit for consistent gas coverages, a braided copper power cable for multi-directional flexibility, and hydraulically compressed fittings for increased cable endurance and a superior gas seal.
Choose from our universal connectors for a direct plug in or the Euro quick connection.
OMEGA Series MIG guns come with the following features:
Medium - High endurance, 250 - 450 amperes, 60% duty cycle air-cooled
Optimum current transfer through a tight tolerance interface
Direct crimped torch body and neck locking screw
Rigid one-piece, full 360° positionable armored swannecks covered with heat resistant rubber -reduces torch damage and provides operator comfort
Coarse threaded tip holders reduce chance of cross-threading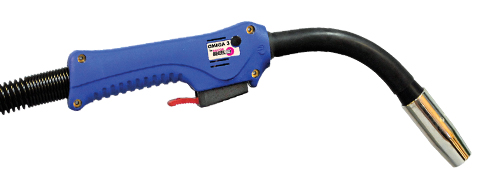 Technical Specifications
Technical Specifications (EN 60 974-7):
Type:

OMEGA 2

OMEGA 3

OMEGA 4

Rating
Air-cooled
Air-cooled
Air-cooled
CO2:
250 A
350 A
450 A
Mixed gases M21*:
200 A
300 A
400 A
Duty Cyle (%):
60
60
60
Wire Ø (mm):

.024" - .045"
(0.6 - 1.2 mm)

.035" - .062"
(0.9 - 1.6 mm)
.035" - .094"
(0.9 - 2.4 mm)
* according to DIN EN ISO 14175
Rated using power source with VDE standard volt/amp characteristic (U=14+0.05xl). When pulse welding, reduce rating by 35%.

Consumables

Contact Tips & Holders | Diffusers | Nozzles | Neckliners & Liners

OMEGA 2
OMEGA 3
OMEGA 4

M6 Threaded Contact Tip Holder/Diffuser Combo

—
H3T-6-C
—

M6 Slip-on Recessed Contact Tip Holder

—
142.0005
—

M6 Slip-on Flush Contact Tip Holder

—
142.0011
—

M6 Tapered Contact Tip Holder

—
H3TP-6-C
—

M6 Standard Copper .024"

140.0005
140.0005
—

M6 Standard Copper .030"

140.0051
140.0051
—

M6 Standard Copper .035"

140.0169
140.0169
—

M6 Standard Copper .040"

140.0242
140.0242
—

M6 Standard Copper .045"

140.0379
140.0379
—

M6 Standard Copper .052"

—
140.0516
—

M6 Standard Copper .062"

—
140.0555
—

M6 Tapered Standard Copper .030"

—
140.1532
—

M6 Tapered Standard Copper .035"

—
140.1533
—

M6 Tapered Standard Copper .045"

—
140.1534
—

M6 Oversized Copper for Aluminum .030"

141.0001
141.0001
—

M6 Oversized Copper for Aluminum .035"

141.0004
141.0004
—

M6 Oversized Copper for Aluminum .040"

141.0060
141.0006

M6 Oversized Copper for Aluminum .045"

141.0010
141.0010
—

M6 Oversized Copper for Aluminum .052"

—
141.0019
—

M6 Oversized Copper for Aluminum .062"

—
141.0020
—

M6 Ultra Long Life Silver Plated .030"

147.0054
147.0054
—

M6 Ultra Long Life Silver Plated .035"

147.0172
147.0172
—

M6 Ultra Long Life Silver Plated .045"

147.0382
147.0382
—

M6 Ultra Long Life Silver Plated .052"

147.0519
147.0519
—

M6 Tapered Ultra Long Life Silver Plated .035"

—
147.1609
—

M6 Tapered Ultra Long Life Silver Plated .045"

—
147.1610
—

M8 Theaded Contact Tip Holder/Diffuser Combo

—
H3T-8-C
H4T-8-C

M8 Slip-on Recessed Contact Tip Holder

—
142.0020
142.0028

M8 Slip-on Flush Contact Tip Holder

142.0024
—

M8 Standard Copper .030"

—
140.0114
140.0114

M8 Standard Copper .035"

—
140.0214
140.0214

M8 Standard Copper .040"

—
140.0313
140.0313

M8 Standard Copper .045"

—
140.0442
140.0442

M8 Standard Copper .052"

—
140.0533
140.0533

M8 Standard Copper .062"

—
140.0587
140.0587

M8 Standard Copper .078"

—
—
140.0653

M8 Standard Copper .094"

—
—
140.0677

M8 Oversized Copper for Aluminum .035"

—
141.0043
141.0043

M8 Oversized Copper for Aluminum .040"

—
141.0008
141.0008

M8 Oversized Copper for Aluminum .045"

—
141.0075
141.0075

M8 Oversized Copper for Aluminum .052"

—
141.0055
141.0055

M8 Oversized Copper for Aluminum .062"

—
141.0022
141.0022

M8 Ultra Long Life Silver Plated .030"

—
147.0117
147.0117

M8 Ultra Long Life Silver Plated .035"

—
147.0217
147.0217

M8 Ultra Long Life Silver Plated .040"

—
147.0316
147.0316

M8 Ultra Long Life Silver Plated .045"

147.0445
147.0445

M8 Ultra Long Life Silver Plated .052"

—
147.0536
147.0536

M8 Ultra Long Life Silver Plated .062"

—
147.0590
147.0590

M8 Ultra Long Life Silver Plated .078"

—
147.0656
147.0656

M10 Theaded Contact Tip Holder/Diffuser Combo

—
—
H4T-10-C

M10 Slip-on Recessed Contact Tip Holder

—
—
142.9054.US

M10 Heavy Duty Copper Silver Plated .035"

—
—
140.1248

M10 Heavy Duty Copper Silver Plated .040"

—
—
140.0348

M10 Heavy Duty Copper Silver Plated .045"

—
—
140.0481

M10 Heavy Duty Copper Silver Plated .052"

—
—
140.0547

M10 Heavy Duty Copper Silver Plated .062"

—
—
140.0616

M10 Heavy Duty Copper Silver Plated .078"

—
—
140.0665

M10 Heavy Duty Copper Silver Plated .094"

—
—
140.0698

M10 Ultra Long Life Silver Plated .045"

—
—
147.0481

M10 Ultra Long Life Silver Plated .052"

—
—
147.0547

M10 Ultra Long Life Silver Plated .062"

—
—
147.0616

M10 Ultra Long Life Silver Plated .094"

—
—
147.0698
OMEGA 2
OMEGA 3
OMEGA 4

Diffuser

—
014.0261
—

Black High Temperature Diffuser

—
014.0026
013.0030
OMEGA 2
OMEGA 3
OMEGA 4

Threaded 10 mm Tapered Nozzle

—
N3T-R-38TP
—

Threaded 13 mm Recessed Nozzle

N2T-R-50
N3T-R-50
N4T-50

Threaded 16 mm Recessed Nozzle

N2T-R-62
N3T-R-62
N4T-62

Threaded 16 mm Recessed Heavy Duty Nozzle

—
—
N4T-HD-62

Threaded 16 mm Flush Nozzle

—
N3T-F-62
—

Threaded 19 mm Recessed Nozzle

—
N3T-R-75
N4T-75

Threaded 19 mm Recessed Heavy Duty Nozzle

—
—
N4T-HD-75

Threaded 14 mm Flush Nozzle

N2T-F-56
N3T-F-56
—

Threaded 14 mm Recessed Nozzle

N2T-R-56
—
—

Slip-on 10 mm Conical Small Nozzle

145.0128
—
—

Slip-on 13 mm Conical Nozzle

145.0080
—
—

Slip-on 13 mm Recessed Nozzle

—
145.0126
—

Slip-on 16 mm Conical Small Nozzle

—
—
145.0129

Slip-on 16 mm Recessed Nozzle

—
145.0078
—

Slip-on 17 mm Cylindrical Nozzle

147.0047
—
—

Slip-on 19 mm Recessed Nozzle

145.0045
—

Slip-on 21 mm Conical Nozzle

—
145.0081

Slip-on 22 mm Cylindrical Nozzle

—
145.0048
OMEGA 2
OMEGA 3
OMEGA 4

Steel Neckliner .024"-.035"

NLS-FX-2435
—
—

Steel Neckliner .035"-.045"

—
NLS-3545
NLS-3545

Steel Neckliner .052"-.062"

—
NLS-5262
NLS-5262

Steel Neckliner Flex Neck .035"-.045"

NLS-FX-3545
NLS-FX-3545
—

Steel Neckliner Flex Neck .052"-.062"

—
NLS-FX-5262
—

Steel Liner Insulated .024"-.035", 17' Long

SI-2435-17PT
—
—

Steel Liner Insulated .035"-.045", 17' Long

SI-3545-17PT
SI4-3545-17PT
SI4-3545-17PT

Steel Liner Insulated .052"-.062", 17' Long

—
SI4-5262-17PT
SI4-5262-17PT

Steel Liner Insulated .078"-.094", 17' Long

—
—
SI4-7894-17PT

Steel Liner Insulated .035"-.045", 28' Long

SI-3545-28PT
SI4-3545-28PT
SI4-3545-28PT

Steel Liner Insulated .052"-.062", 28' Long

—
SI4-5262-28PT
SI4-5262-28PT

Steel Liner Insulated .078"-.094", 28' Long

—
—
SI4-7894-28PT

Liner Combi PA .035"-.045", 17' Long

128.9047
128.9047
128.9047

Liner Combi PA .052"-.062", 17' Long

—
128.9050
128.9050

Product Literature & Parts List
Ordering Charts
Operating Manuals