Easy. Efficient. Hard Automation.
ABI-CAR welding tractors close the gap between hand welding and flexible automation. These economic welding tractors are an ideal entry-level solution into mechanized automation. ABI-CAR quickly and effectively welds longitudinal and circumferential seams in horizontal or vertical positions.
ABI-CAR is easily customized to fit individual requirements with a wide range of cross supports and clamping accessories available. All components are built in a modular system for fast, easy installation and increased welding productivity.
ABI-CAR Features & Benefits:
Compactly built: Small footprint compared to other welding tractors with more durable cross-slides
Easy integration: Easy connection to all commercially available hand welder sets
Great seam quality: High-quality welding results on long parts in a horizontal or vertical position
Increased productivity: Consistently high, uninterrupted welding speed
Simple handling: Simple and safe handling for operators
---
ABI-CAR Options at a Glance:
ABI-CAR 1200-O with Oscillator
ABI-CAR E-1200-O with the Oscillator allows perfect welding beads at high speed in consistently high quality.
Adjustable oscillator unit: Variety of options (symmetrical/asymmetrical oscillator, time lag center/left/right, frequency and width offset)
Clear digital display: Showing speed, oscillator delay, oscillator width offset and oscillator frequency
5-axis torch adjustment
Flexible seam tracking
Increased speed: Up to 47.24 inches per minutes (1200 mm/min)
Convenient additional functions: Auto start/stop, manually controllable end crater fill for current sources with 4-cycle control system (pre-, main, re-welding cycle and welding end)
ABI-CAR 1200
The flexible ABI-CAR E-1200 welding tractor with increased speed makes perfect welds on long seams.
Increased speed: Welding tractor operates at a precisely adjustable speed up to 47.24 in/min (1200 mm/min)
Convenient functions: Auto start/stop, manually controllable end crater fill for current sources with 4-cycle control system (pre-, main, re-welding cycle and welding end)
5-axis torch adjustment: Flexible torch positioning (also while driving) via cross support (50 mm x-y), suitable for torch necks up to 25 mm diameter
ABI-CAR Features & Accessories:
Track Kit with On/Off Magnets
Give your ABI-CAR road to run on with our Track Kit. Features a 71-inch rail system with ON/OFF magnets and bolt on guide sets for your ABI-CAR. Additional track sections are available in 71-inch and 39-inch increments.
User-friendly Knob & Switch Interface
Getting your ABI-CAR dialed in is super simple with an easy to use knob and switch control interface that provides digital readouts for your settings. Dial knobs click to stay secure during tractor operation.
Connector Cables for Most Machines
No matter the welding machine, ABI-CAR comes with a jumper lead connect to fit right into your hand welder and automatically start the welding torch with a flip of the switch on the ABI-CAR tractor.
Stack Your ABI-CAR with a BINZEL Torch:
ABIMIG Welding Guns
Combine your ABI-CAR welding tractor with one of BINZEL's industry-best manual MIG guns for high-performance, cost-effective productivity.
See BINZEL Manual MIG Guns

AUT Series Welding Guns
Looking for more duty-cycle and automation? Use one of our Automatic MIG Guns to do long weld seams with ease, precision, and ruggedness.
See Binzel Automatic MIG Guns

ABI-CAR Welding Tractor Videos:
ABI-CAR Welding Tractor Product Overview
ABI-CAR Meets Weld.com's Bob Moffatt
Track & Jumper Leads
DESCRIPTION
PART NUMBER

ABI-CAR E-1200 Series Track Kit 1.8m (71") with ON/OFF Magnets

522.0141.1

ABI-CAR E-1200 Series Track Section 1.8m (71")

522.0175.1

ABI-CAR E-1200 Series Track Section 1.0m (39.375")

522.0176.1

ABI-CAR E-1200 Series Bolt-On Track Guide Set

522.0178.1

Magnet ON/OFF with Screws

522.0177.1

Jumper to Tweco® 1/4" spades

175.9120

Jumper to Lincoln® 5-Pin Amphenol

175.9121

Jumper to ESAB® 2-pin twist lock

175.9148.US

Jumper to Panasonic® / OTC® 2-pin female

175.9126

Jumper to Fronius® rectangular multi-pin

175.9134.US
Return to Top
ABI-CAR Replacement Parts
DESCRIPTION
PART NUMBER
E-1200 / E-1200-O

Connection plate (1)

522.0127

Cross slide (2)

522.0128

Clamping screw (3)

522.0135

Angle adjustment (4)

522.0129

Clamping plate (5)

522.0130

Torch mount clamp 16 mm (6)

522.0137 / 522.0172

Drive for pendulum unit (6.1)

522.0171
(E-1200-O Only)

Gear motor (7)

522.0131

Control cabinet (8)

522.0119

Operating panel (9)

522.0136 / 522.0170
3-pin plug (10)
522.0125

2-pin socket (11)

522.0138

5-pin socket (11.1)

522.0173
(E-1200-O Only)

Power supply (12)

522.0139

Handle complete (13)

522.0124

Heat shield with screws (14)

522.0121

Basic housing (15)

522.0120

Guide arm (16)

522.0132

Base plate (17)

522.0122

Wheels (18)

522.0140

Hand lever / magnet lifter (19)

522.0123

Ceramic roller (20)

522.0134

Clamping wheel (21)

522.0133

Torch mount clamp 30 mm (not on diagram)

522.0101
Return to Top
Technical Specifications
Ambient temperature:
-4°F to +104°F
-20°C to +40°C
Relative humidity:
Up to 90% at 68°F (20°C)
Ambient temperature for storage:
-40°F to +104°F
-40°C to +40°C
Relative humidity:
Up to 90% at 68°F (20°C)
Total weight:
15.21 lbs (6.9 kg)
Dimensions L x W x H:
10.71 x 9.53 x 10.43 in
272 x 242 x 265 mm
Supply voltage:

230 V, 1-phase alternating current; 24 V DC 100–240 V

IP protection class:
2X
Drive & drive wheels:
Friction drive (4 driven wheels)
Offset angle & oscillation width:

45° to 60° ; +/- 7°

Speed:
1.97 - 47.24 in/min
50 - 1200 mm/min
Pull force (with magnet on):
35.27 lbs (16 kg)
Welding torch work area:
Horizontal 40° - 55° ; vertical 50 mm; horizontal 50 mm
Welding torch neck diameter:
.63 - .87 in standard model ; .79 - 1.18 in optional
16 - 22 mm standard model ; 20 - 30 mm optional
Possible weld length:
Up to 13 feet ; restricted up to 16 feet
4000 mm ; restricted up to 5000 mm
Material/workpiece:
All magnetic metal surfaces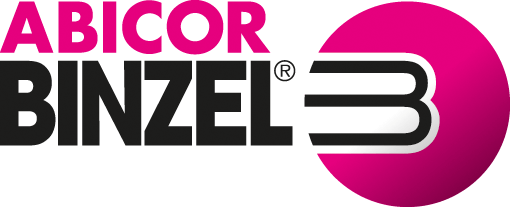 ABICOR BINZEL USA, Inc.
650 Medimmune Ct., Suite 110
Frederick, MD 21703
Google Maps
001-301-846-4196
ABICOR BINZEL world-wide - everywhere at your side ...