Držiak robotových horákov CAT3
Kolízny snímač ktorý robí rozdiel ...
Držiak robota CAT3 sa používa s externe navádzacím káblovým zväzom horáka. Z dôvodu vyhnutia zváracieho horáka pri kolízii pomocou držiaka CAT3 je zvárací robot spoľahlivo stopnutý integrovanou vypínacou funkciou snímača, čím sa zabráni poškodeniu zváracieho robota a zváracieho horáka.
Okrem toho presné resetovanie umožňuje rýchle obnovenie výrobného procesu, tým sa prestoje znížia na minimum. CAT3 je procesne orientovaný ďalší vývoj osvedčených robotových držiakov CAT2 a CAT2-HL.
Robototické držiaky CAT2 a CAT2-HL sa dajú jednoducho vymeniť za CAT3 bez preprogramovania robota.
Univerzálne príslušenstvo držiakov a prírubových doplnkov vždy ponúka správne riešenie produktu pre vašu aplikáciu.

Argumenty, ktoré hovoria sami za seba:
Technicky prepracovaný, robustný dizajn
Jednoduchá inštalácia na zváracích robotoch
Kompaktná veľkosť pre optimálnu prístupnosť
Spoľahlivá spínacia funkcia
Vysoká presnosť resetovania minimalizuje prestoje linky
Na prispôsobenie hmotnosti nástroja sú k dispozícii rôzne typy pružín
Vynikajúca ochrana pred znečistením
Oblasť použitia:
Štandardný zvárací robot s externým káblovým zväzkom
Technical data
Dimensions:
Ø 77 mm
Height 106 mm
Weight:

960 g (without holder and flange)

Max. deflection:

Deflection in X- and Y-axis: ca. 7°
Deflection in Z-axis: 5 mm

Switch point:
Deflection in X- and Y-direction: 1,4°–1,7°
Deflection in Z-direction: 1,3–1,6 mm
Resetting accuracy:
X-, Y- and Z-direction: ± 0,04 mm
(at 400 mm distance to the robot flange)
Load capacity safety cut-out:
max. 30 V DC / 100 mA
Documentation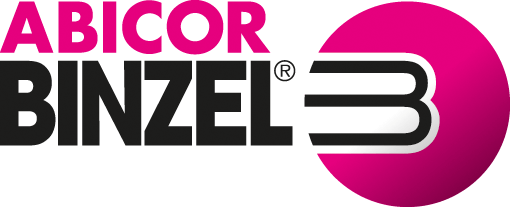 ABICOR BINZEL SLOVENSKO, s.r.o.
Priemyselná ulica 1239
93101 Samorin
Google Maps
00421 31 562 25 25
ABICOR BINZEL world-wide - everywhere at your side ...