KURT HAUFE - About us
KURT HAUFE Brief Portrait
The KURT HAUFE Schweißtechnik Company was founded in 1939 and has been integrated into the ABICOR Group since it was taken over by the Alexander Binzel Schweisstechnik Company in 1990.

The company's main roles are as follows:
Specialised production location for the ABICOR Group
Distribution centre for Central and Eastern Europe, as well as the CIS states
ABICOR Group development centre at the Dresden site
The production range includes:
MIG/MAG welding torches
Plasma cutting torches
Electrode holders
Gouging blowpipes
plus spare and wear parts

KURT HAUFE Schweißtechnik predominantly serves the specialist trade and OEMs. Sales are either made directly or via BINZEL subsidiaries, which can currently be found in 50 countries across the world, particularly in Central/Eastern Europe and the CIS states.

KURT HAUFE Schweißtechnik currently employs 140 members of staff.
Quality comes first
KURT HAUFE Schweißtechnik places special value on the high quality of its products and services.

The DIN EN ISO 9001 approved quality management system, which was first certified in 1996 and continues to provide the successful foundation for extremely high quality levels, forms the basis in this respect.

Products and services will continue to be of very high quality in the future too. As such, the company obligates itself to a continuous improvement of all processes and the success of the quality management system. Staff flexibility and their willingness to constantly seek improvement help to guarantee this.

The company goals can only be achieved together with all members of staff. Trust in them, together with respect for their personalities, is, therefore, the basis for action and co-operation within the KURT HAUFE Schweißtechnik Company.

Open and honest exchanges with customers and contact partners is a matter of course for KURT HAUFE Schweißtechnik. The company sees this as the foundation for trusting and loyal relationships.
Company History
1939:  Founding of "KURT HAUFE – Schweißtechnik und Kunstharzpresserei"
1943:  Purchase of land at Altlöbtau 9, home to the company premises to this day
1945:  Building complex destroyed by an air strike
1946:  Rebuilding, beginning of manufacturing of bakelite pressings, electrode holders, grey cast iron bars etc.
1958:  Patent for a "device to gouge and cut", production of the electrical compressed air gouging blowpipe
1958:  Takeover of a production site in Kamenz to manufacture plastic injection parts and thermoplastic toys
1959:  Patent registration for the first KURT HAUFE "CO2 welding gun" and beginning of production; other
            patents registered over the following years
1966:  Exhibition gold for MIG welding torches R 200 and R 300
1962:  Development of the handy "Rüsselbrenner" torch R 200 and R 300 with interchangeable burner tube
1968:  Exhibition gold for the Optik construction kit made from operating parts from the toy production site in
            Kamenz
1970:  Development of the 2nd generation CO2 welding torch – the RU range (Rüsselbrenner Universal)
1971:  Modular system for mechanised welding, MBE – Maschinen-Brenner-Baueinheiten (machine welding
            modular units)
1972:  Expropriation and communisation of the company to the "VEB Plastverarbeitung und Schweißtechnik
            Dresden"
1975:  Company founder Kurt Haufe passes away on 20th August
1978:  Development of the RS range
1978:  Exhibition gold for the MIG/MAG welding torches RU315 / PU315 and RU400 / PU400
1978:  Exhibition gold for the cored wire torch
1982:  Intensification of research and development and opening up of new product categories (robot welding
            technology, sensor technology)
1990:  Reprivatisation and takeover by Alexander Binzel Schweißtechnik as a subsidiary
1990:  Expansion of production to create a specialised production site for the ABICOR Group for
            air-cooled MIG/MAG welding torches
1991:  Beginning of opening up the markets in Central/Eastern Europe and CIS states; founding of BINZEL
            subsidiaries over the following years
1997:  Further development of the HAUFE torch to new RM range
1998:  Development of the BIKOX® R MSG welding cable
1999:  Sales launch of the modified RM torch in the USA (ALPHA)
2000:  Sales launch of RF torch range in the CIS states
2001:  Sales launch of the ABIMIG® / ABIMIG® T range of torches
2009:  Development of the BIKOX® R LW and launch of the ABIMIG® GRIP A series
2012:  Sales launch of the ABIMIG AT LW modular torch range
2013:  International award for the BINZEL Group with the American "Frost & Sullivan Award" for the
            "ABIMIG® AT LW" range
2014:  75th anniversary of KURT HAUFE Schweißtechnik
 
Read more here:
Dresden Production Site
KURT HAUFE Schweißtechnik produces various ranges, sizes and design variations of welding torches in different order quantities. In addition, the product range also includes electrode holders, gouging blowpipes and an extensive range of spare parts.
A flexible production system, high in-house production depth and efficient technologies allow for a rapid process speed, even when a large variety of components is involved.
Well-trained staff with many years of experience and high levels of motivation help to guarantee consistent, solid quality.
Alongside assembly areas for complete products and groups of components, as well as turned part and gas nozzle production, it is the cable production for the special BIKOX® welding cable that represents the special key technology at the site.
Dresden Development Centre
The development department of KURT HAUFE Schweißtechnik is a specialist in air-cooled manual and mechanical torches. The focus lies both on developing existing ranges of torches further and on designing new ranges. These are distributed and sold across the world by the ABICOR Group.
Customer-specific torches are developed alongside the standard and modular solutions, which in fact cover the majority of applications.
The quality and performance of the products is ensured by way of extensive tests in our on-site test laboratory or in the ABICOR Group's lab, as well as through comprehensive industry tests.
Our "Area East" Sales Region
From the site in Dresden, KURT HAUFE Schweißtechnik serves countries from Central and Eastern Europe and from the CIS states. This region spans from Poland to Kazakhstan.
As it is only possible to secure long-term success in overseas markets through one's own structures, there are currently 11 Eastern European subsidiaries and a production site in Russia; all of which are managed and overseen by KURT HAUFE Schweißtechnik.
A total of 22 countries in Southeast and Eastern Europe and in Central Asia are currently served by the company. A team of 70 members of staff, based both in the region itself and at the premises in Dresden, are directly responsible for sales in the "Area East", and ensure the smooth flow of goods, including to remote regions, and assist specialist retailers and operators.
The sold items are used by consumers in the most wide ranging sections of the metalworking industry; for example in steel construction, shipbuilding, vehicle construction, automotive engineering, railway vehicle manufacturing, wind turbine construction, by construction companies and in the iron and steel industries.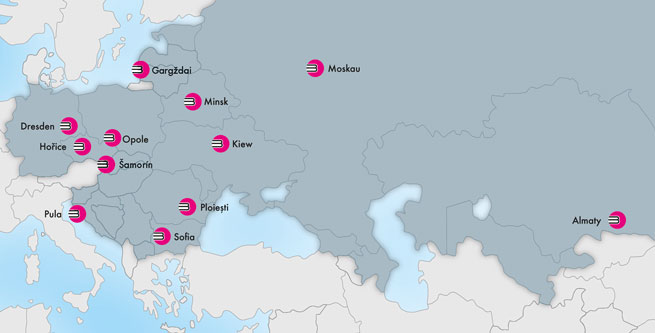 Sales regions "Area East"