The nuts and bolts for best welding results
Kaip pasirinkti tinkamiausius volframo elektrodus?
Virinant TIG metodu, svarbu pasirinkti ne tik gerą degiklį, energijos šaltinį ir inertines dujas, tačiau ir temperatūrai atsparų, nesilydantį elektrodą.

Rinkdamiesi tinkamą elektrodą, atkreipkite dėmesį į:
Volframinio elektrodo tipą
Elektrodo diametrą
Elekrodo paviršiaus kokybę ir šiurkštumą
Elektrodo galiuko geometriją
E3® elektrodai
Nelydusis elektrodas su retųjų žemės elementų oksidų mišiniais. Lyginant su toriuotais nelydžiaisiais elektrodais, šis elektrodas yra beveik nekenksmingas aplinkai ir be radioaktyvių priemaišų. E3® nelydusis elektrodas pasižymi geromis lanko uždegimo ir lanko degimo savybėmis. Tai universalus elektrodas tinkantis tiek AC tiek DC srove nelegiruotam ir legiruotam plienui, aliuminio, titano, nikelio, vario ar magnio lydiniams suvirinti. Dėl ypač gero lanko uždegimo rekomenduojamas ir automatizuotiems suvirinimo darbams. E3® elektrodai pasižymi žema temperatūra, galima naudoti aukštesnę srovę ir pasiekti ilgesnį tarnavimo laiką nei su toriuotais elektrodais.

Spalvinis kodavimas:
E3® = Purpurinė spalva
WLa elektrodai
Nelydieji elektrodai turintys sudėtyje lantanų, tinkantys tiek DC tiek AC suvirinimui. Jie tinka ir nelegiruoto ir legiruoto plieno, aliuminio, titano, nikelio, vario ir magnio lydinių suvirinimui. Šie elektrodai taip pat tinka mikroplazminiam suvirinimui.

Uždegimo charakteristikos yra sustiprintos dideliu kiekiu lantano oksido (La2O3). Bendras tarnavimo laikas ir darbinės srovės lygis yra ženkliai mažesni nei E3® nelydžiųjų elektrodų.

Spalvinis kodavimas:
WLa 10 = Juoda spalva
WLa 15 = Auksinė spalva
WLa 20 = Mėlyna spalva
WCe elektrodai
Šie nelydieji elektrodai savo sudėtyje turi cerio oksido (CeO2). Jie yra kietesni, palyginti su gryno volframo elektrodais, tačiau lyginant WCe elektrodai minkštesni nei E3® ir WL elektrodai. Pagrindinės taikymo sritys yra DC ir AC nelegiruoto ir legiruoto plieno, aliuminio, titano, nikelio, vario ir magnio lydinių suvirinimui žemos ir vidutinės srovės diapazone.

Spalvinis kodavimas:
WCe 20 = Pilka spalva
WP elektrodai
Volframinis elektrodas be priemaišų. Sudėtyje tik grynas volframas. Šis volframinis elektrodas labiausiai tinka AC (kintančios srovės) suvirinimui aliuminio lydiniams su nepriekaištingu lanko stabilumu. WP elektrodai netinka DC (pastoviosios srovės) suvirinimui.

Spalvinis kodavimas:
WP = Žalia spalva
WZr elektrodai
Nelydieji volframiniai elektrodai su cirkonio priemaišomis turi mažesnę riziką užteršti suvirinimo siūlę volframu. Pagrindinė šio elektrodo taikymo sritis – AC suvirinimas. Jų pritaikymas yra ribotas dėl savo tinkamumo DC suvirinime.

Spalvinis kodavimas:
WZr 08 = Balta spalva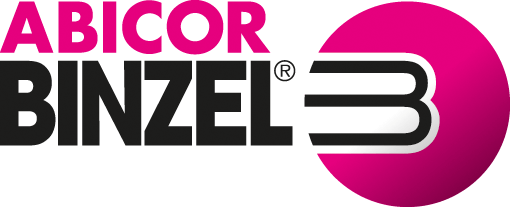 UAB Binzel Baltic
Naujoji Street 7-2
96124 Gargzdai
Google Maps
00370 46 401 673
ABICOR BINZEL world-wide - everywhere at your side ...