Trumpai apie mus
Kompanija BINZEL buvo įkurta 1945 m. Gysene, Vokietijoje - nuo to laiko pasiekėme daug inovacinių laimėjimų virinimo sektoriuje. Šiandien turime gamyklų Vokietijoje, JAV, Brazilijoje, Indijoje, Kinijoje ir Rusijoje su daugiau nei 1000 darbuotojų ir 30 dukterinių įmonių.
Mes, Binzel Baltic, esame oficialus ABICOR BINZEL atstovas Baltijos regionui nuo 1998-ųjų.
Dirbame ne tik Lietuvoje, bet ir Latvijoje, Estijoje, Kaliningrade. Pasikliaukite mūsų kompetencija ir kreipkitės į mus - padėsime išsirinkti Jums tinkamiausius produktus!
Istorija
Nuo kompanijos įkūrimo 1945 m. pasiekėme šių aukštųjų inovacijų laimėjimų:
1963 Pristatytas pirmasis galingas MIG/MAG virinimo degiklis
1969 Pradedami gaminti TIG virinimo degikliai
1973 Pristatoma centrinės jungties ir kištuko sistema, kurie netrukus tampa Europos ir pasaulio standartas
1973/1974 Pristatoma pirmoji skysčiu aušinamų MB serijos MIG/MAG virinimo degiklių karta
1974 Pristatomi pirmieji virinimo degikliai "RAS" su dūmų nusiurbimu
1975 Rinką užkariauja "BIKOX", ABICOR BINZEL koaksialinis kabelių paketas su MIG/MAG MB serijos oru aušinamais virinimo degikliais
1976 Pristatoma pirmoji Binzel Push-Pull virinimo degiklių serija
1978/1979 ABICOR BINZEL pristato robotus, skirtus automobilių gamybai, ir pradeda vystyti robotinio virinimo sistemas
1984 Produktų asortimentą papildo plazminio pjovimo degikliai
1985 - 1993 Toliau vystomi tokie robotiniai periferiniai įrengimai, kaip degiklio kaklelio keitimo sistema "BWS", įrankių keitimo sistema "WWS" ir sensoriaus sistema "CAT"
1996 Pasauliui pristatoma inovatyvi degiklio kaklelio keitimo sistema ATS-Rotor
1997 Daugiavieliai degikliai automatizuotam virinimui papildo ABICOR BINZEL virinimo degiklių asortimentą
1998/1999 Bendradarbiaujant su pirmaujančiais automobilių gamintojais sukuriama Vielos tiekimo sistema "MFS", kuri pirmą kartą leidžia panaudoti aliuminio virinimą didelio masto serijinėje gamyboje
2001 Rinkoje pasirodo naujieji ABIMIG®, ABITIG® ir ABIPLAS®
2002 Azijos rinkai pasiūlomas specialiai CO2 virinimui skirtas ROBO virinimo degiklis ABIROB® A350 GC
2003/2004 Pristatomi galingi oru aušinami ABIROB® A360/A500 degikliai robotiniam, vidutiniškai automatizuotam virinimui
2005 Pristatomi rankiniai MIG/MAG degikliai MB GRIP (aušinami oru ir skysčiu)
2006 Pasirodo naujieji degikliai Tandem WH W800 su plačiai išbandytais WH komponentais bei greitai pakeičiamu kakleliu
2006/2007 Pristatomas išmanusis robotinis laikiklis iCAT, su įdiegta programine įranga, kuri pajaučia susidūrimą- degiklio laikiklis su sensoriumi kiaurariešiams robotams; taip pat pristatomas laikiklis iSTM be sensoriaus, specialiai sukurtas kiaurariešiams robotams, turintiems integruotą susidūrimo programinę įrangą
2007 Išvystoma vielos padavimo sistema MFS-V2 labai tiksliam lazeriniam virinimui su karšta ir šalta viela
2008 MIG/MAG rankinio virinimo degiklių Push-Pull Plus pristatymas
2008 MIG/MAG produktų liniją robotiniam virinimui užbaigia skysčiu aušinamo, keičiamo kaklelio degiklis WH W500 bei robotinio virinimo degikliai ABIROB® A300 (aušinami oru)
2009 Skysčiu aušinamo degiklio sistema ABIROB® W papildo vidutinio automatizavimo ROBO produktų asortimentą
2009 Pristatomi naujos kartos rankinio virinimo degikliai MIG/MAG ir TIG virinimui, taip pat plazminio pjovimo pjovikliai ABIMIG® GRIP A LW, ABIMIG® GRIP W, ABITIG® GRIP, ABITIG® GRIP Little bei ABICUT
Plazminio virinimo sistemos ABIPLAS® WELD CT/MT (iki 300 A) su keičiamu degiklio kakleliu (CT) ir nekeičiamu kakleliu (MT) pristatymas rinkai
Kasdien klientams visame pasaulyje siūlome ypatingus sprendimus ir sukuriame daugiau nei 10 000 specialios konstrukcijos degiklių per metus.
ABICOR BINZEL šiandien
Daugiau nei 30 dukterinių įmonių ir partnerių visame pasaulyje
Virš 1000 darbuotojų
Gamyklos Vokietijoje (Buseck, Dresden), JAV, Brazilijoje, Indijoje, Kinijoje ir Rusijoje
Nuo 1995 m. kompanijos Kokybės valdymo sistema sertifikuota DIN ISO 9001
Kompanija nuolatos vykdo mokslinius tyrimus bei plėtrą savo unikalioje ir labai gerai įrengtoje laboratorijoje su tiksliausiomis kompiuterinėmis ir lazerinėmis technologijomis
Produktai išrankiausiems
Aukštos techninės kokybės, funkcionalių ir saugių produktų paklausa pasaulyje auga kasdien. Įgyvendinkite savo technines idėjas su mūsų produktais!
Mes pasiūlysime tinkamiausią degiklį įvairioms užduotims atlikti. Aušinamą oru arba skysčiu. Rankiniam, automatiniam arba visiškai automatizuotam virinimui. Mūsų asortimente taip pat rasite platų virinimo priedų pasirinkimą bei robotines periferines sistemas. Yra iš ko rinktis!
Inovacijos ir kokybė
Intensyvi plėtra - tai pagrindas naujų produktų sukūrimui.

Šiuo metu technologijų laboratorijose maždaug 40 inžinierių kuria inovacijas ir individualius sprendimus unikaliai virinimo įrangai. Pasitelkiant 3D-CAD kompiuterines programas bei modernias dujų srauto vizualizacijas, konstruojami patys geriausi degiklių modeliai, patogiausios rankenėlės ir automatinio virinimo technologijos komponentai.

Kuriame aplinką tausojančius, automatizuotus bei naujausias technologijas atitinkančius produktus. Greitis, ekonomija ir kokybė - tai pagrindiniai reikalavimai, kuriuos stengiamės vykdyti.

Būtina paminėti, jog ABICOR BINZEL buvo pirmasis virinimo degiklių gamintojas, kuriam įteiktas DIN EN ISO 9001 kokybės atitikties sertifikatas.
Geriau nei gerai
Mes tvirtai laikomės šio devizo.

Klientų poreikių patenkinimas yra mūsų visų strategijų pagrindinis tikslas.
Kad jį įgyvendintumėme, visuose padaliniuose pasitelkiame kūrybingų ir kompetetingų darbuotojų komandas, intensyviai dalinamės idėjomis su produktų naudotojais, dalyvaujame naujausių virinimo technologijų apmokymuose ir seminaruose, bendradarbiaujame su institutais bei universitetais.

Aktyvus saugių ir inovatyvių ateities produktų kūrimas - tai mūsų įsipareigojimas. 1995 m. įsteigtas ABICOR prizas už technologines inovacijas skatina nenutrūkstamą virinimo ir pjaustymo technologijų tyrinėjimo progresą. Šį prizą įteikiame kas du metus.

ABICOR BINZEL komanda siekia įsiklausyti į klientų pasiūlymus, įtraukti juos į produktų vystymo, dizaino bei prototipų pristatymo procesus. Mūsų tikslas - pristatyti Jums naujausias ir moderniausias pasaulines technologijas.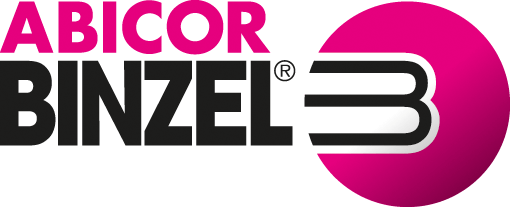 UAB Binzel Baltic
Naujoji Street 7-2
96124 Gargzdai
Google Maps
00370 46 401 673
ABICOR BINZEL world-wide - everywhere at your side ...