AutoGuide Plus – reliable torch guidance in one package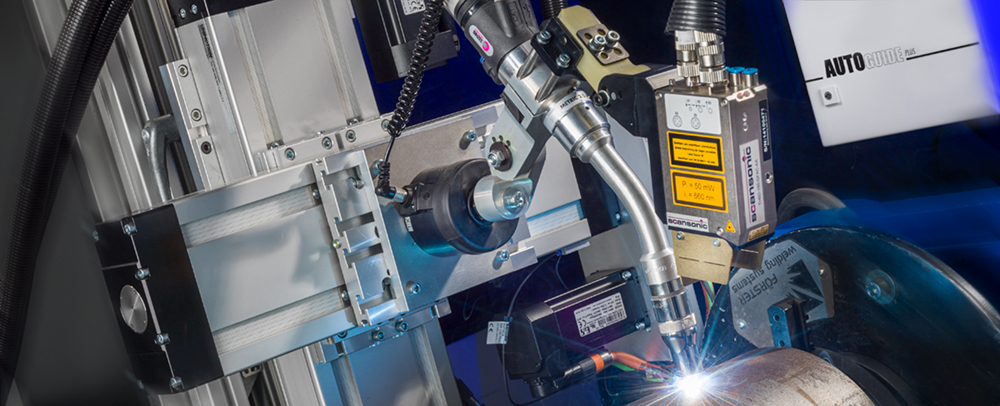 Simply press the start button and the welding task is carried out exactly – without any expensive robots ... With the AutoGuide Plus, partially automated welding is guaranteed to succeed. This automatic torch guide with optical seam tracking sensor ensures that the welding torch welds where it is supposed to weld. If components have been prefabricated outside the tolerance or if the tolerance is too large, a programmed, automatically produced weld seam is quickly at a spot where it does not belong. The AutoGuide Plus 2-axis torch guidance system corrects the welding path in real time based on the seam tracking sensor TH6 data and makes constant observation of the welding process by an employee unnecessary. Even with reflective materials.
Significant cost savings in production
AutoGuide Plus is very easy to use with just a few simple selection menus. There is no need for time-consuming training of the operating personnel, programming knowledge is not required. Three positions are defined in advance and set on the device, as well as the sensor and the seam position to be searched. Press the start button and off you go. Monitoring by employees is no longer necessary, because the system works completely independently and corrects the torch position automatically. An employee can operate several welding processes with AutoGuide Plus at the same time and always gets the perfect weld. All in all, it increases efficiency, quantities and quality. Significantly!
Where AutoGuide Plus can be used
In combination with a turntable – ideal for round seams such as tubes, pipes, etc.
Mounted on a welding portal – masters long horizontal seams such as truck trailers, trains, etc.
Mounted on a welding boom – for long vertical seams such as cranes, standing pipes, scaffolding, etc.
AutoGuide at one glance
simple
Can be connected and integrated very easily (plug & weld)
Ideal for simple repeating welding tasks
Offers operating menu in different languages
Two movable axes (axis cross) guide sensor and welding torch
precisee
Allows perfect weld seams of highest quality
Guarantees high positioning accuracy through three-line lasers
Provides great stability in the measurement data acquisition
Corrects the seam tracking in real time
versatile
Suitable for almost all welding processes
Guarantees stable detection even with reflective materials
Ideal for large, long or round components likewise
Realizes even large quantities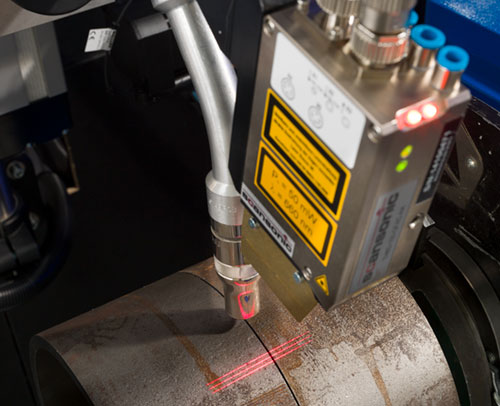 Cross-axis with two movable axes
The three positions for the perfect weld
Home position
The start search begins from a predefined parking position (home position). The welding torch assumes this position whenever it is not working. As soon as a task is completed, it returns to the home position.
Search/travel position
The axis system moves to the preset search starting position with the optical seam tracking sensor TH6 and the welding torch. From this point, the search run begins, which can be configured as required. Once the sensor has found the weld seam, it transmits the position data to the axis control. Torch system and sensor then move to their working position.
Working position
When the working position (e. g. welding position) is reached, a signal is sent to the higher-level control system, which controls all other components. Normally, all components – such as a power source or turntable – are controlled in their entirety by a higher-level controller.
How optical seam tracking works
The path to the perfect weld is guaranteed with the TH6 seam tracking sensors. These record and measure contact-free joint contours with height offset, gap, angle and – with the TH6i – also butt joints. A line generator creates three measuring lines that are projected onto the workpiece. A diffuse reflection arises, which needs to be in the field of view of the camera lens and is detected by the CMOS sensor. With the optical distance measurement – the so-called laser triangulation – the working distance as well as the position and inclination of the material to be welded can now be determined. Gap size, edge offset on the joint and the current seam position are recorded as measured values and sent to the sensor process computer. These values are passed on to the axis control, which then determines the positioning of the welding torch.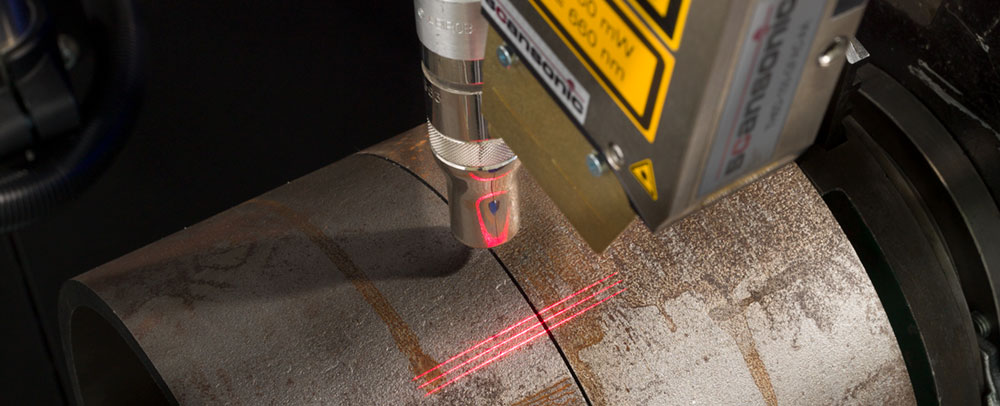 Schematic representation of laser triangulation (= optical distance measurement) in which a light pattern of three parallel laser lines is
projected onto the component surface at an angle of approx. 20°:
Legend:
1. Laser diode
2. Collimator optics
3. Projection optics
4. Light detector
5. Lens (receiver optics)
6. Measuring object (component)
7. Measurement 1 and measurement 2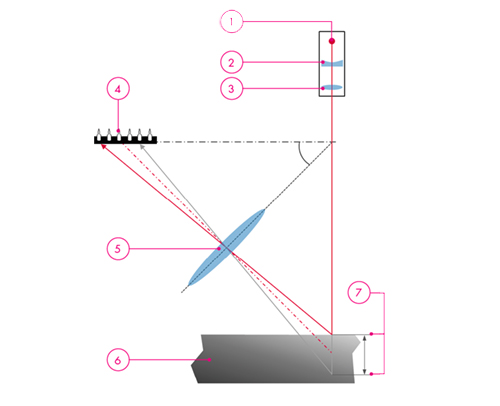 Technical data
Sensor

TH6D GF
Standard

TH6D CF
Optional

TH6D KF
Optional

TH6i
Optional

Measuring lines:
3
3
3
3
Working distance:
150 mm
150 mm
150 mm
150 mm
Measurement rate:
60 Hz
60 Hz
60 Hz
60 Hz
Operating temperature:

10°C – 45°C

10°C – 45°C

10°C – 45°C

10°C – 45°C

Dimensions
(W x H x D):
70 x 40 x 100 mm
70 x 40 x 100 mm
70 x 40 x 100 mm
70 x 40 x 100 mm
Measuring range (W, H):
35 mm, 60 mm
16 mm, 24 mm
40 mm, 80 mm
16 mm, 24 mm
Resolution (WxH):
0.06 x 0.10 mm
0.03 x 0.07 mm

0.08 x 0.12 mm

0.03 x 0.07 mm

Application:
Thick and
thin sheet
applications
Thin sheet
applications
Thick sheet
applications
Thin sheet
applications /
Detection of
butt joints from
0.02 mm gap
 
Standard
Optional
Lenght x- /y-axis:
200 mm
300 mm
Load capacity per axis:
15 kg
100 kg
Application:
all standard
applications
e.g. submerged
arc welding
Both axis variants (200 mm and 300 mm) are available with 15 kg as well
as 100 kg load capacity.
Optional equipment
Axes with 300 mm operating lengths
As an additional offer, because the standard axes have a travel of 200 mm.
Axes with increased payload
While the standard axes have a load capacity of 15 kg, there are also optional axes with a 100 kg load capacity. These are particularly suitable for submerged welding applications, where a small powder container can be attached to the axis system.
Air conditioning for the control unit
Especially for work in a hot atmosphere or with hot components.
Profinet module
When faster data communication with real-time properties is desired.
Space-saving angular gear
Solves space problems when the process is generally too tight.
 
Additional accessories
The AutoGuide Plus system also includes suitable air and liquid cooled welding torch types, as well as torch mounts with and without a shutdown function. And in addition, other accessories up to the complete welding equipment including the iROB power source are available.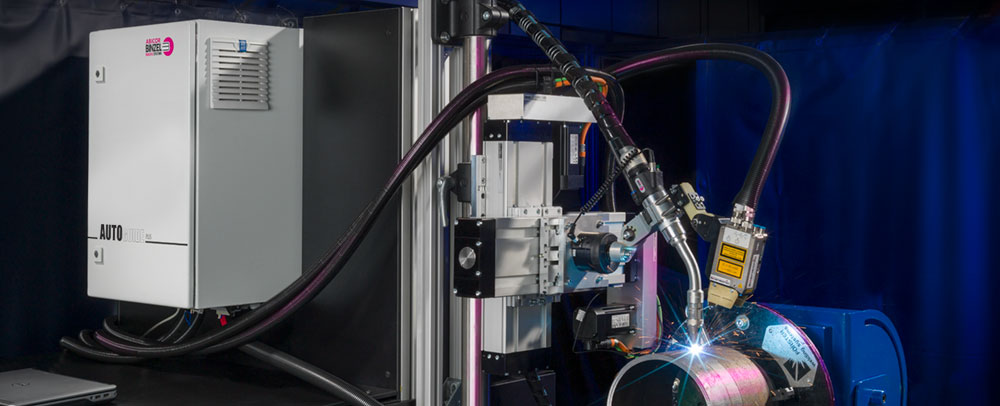 Documentation