Krátký portrét
Založen v roce 1945 v Giessenu
Inovace na vysoké úrovni:
1963 vývoj prvního výkonného MIG/MAG svařovacího hořáku pro svařování v ochranné atmosféře
1969 převzetí výroby WIG svařovacích hořáků pro svařování v ochranné atmosféře
1973 vývoj a zavedení systému centrálních koncovek připojení hořáku, které se staly evropským normativem a světovým standardem
1973/1974 první generace kapalinou chlazených MIG/MAG hořáků řady MB
1974 zavedení první generace hořáků s odsáváním zplodin řady RAS
1975 "BIKOX" - koaxiální kabelový svazek, poprvé zaveden na trh s plynem chlazenými hořáky řady MB
1976 vývoj první série BINZEL Pusch-Pull svařovacích hořáků
1978/1979 paralelně se zavedením prvních robotů do automobilového průmyslu začíná BINZEL s vývojem systémů pro svařování s roboty
1984 sortiment BINZEL doplňuje plazmový řezací hořák
1985 – 1993 pokračuje vývoj robotových periferních systémů, např. systém výměnných hrdel "BWS", systém výměnného nářadí "WWS" a držák robotových hořáků "CAT"
1996 představen světové veřejnosti nový systém výměny hrdel hořáku - ATS-rotor
1997 doplňuje BINZEL výrobní program vícedrátový svařovací hořák
1998/1999 v těsné spolupráci s rozhodujícími automobilkami je vyvinut "MFS" systém, který poprvé umožnil zařadit svařování hliníkovým drátem do velkosériové výroby
... a denně speciální řešení pro naše zákazníky po celém světě představuje více jak 10.000 speciálních konstrukcí a řešení za rok.

ABICOR BINZEL dnes
více jak 30 dceřinných společností a odbytových partnerů po celém světě
více jak 1000 spolupracovníků po celém světě
výrobní jednotky v Německu (Giessen, Drážďany), USA, Brazílii, Indii, Číně a Rusko
od roku 1995 certifikovaný systém řízení jakosti podle DIN ISO 9001
vysoká angažovanost ve vývoji a výzkumu, podpořená i technologickými zkušebnami a laboratořemi, vybavenými speciální výpočetní a laserovou technikou nejvyšší úrovně
Výrobky - pro nejvyšší požadavky
Celosvětově rostou požadavky na funkčnost, bezpečnost a bezpečnost technických výrobků. V mnoha případech je pro kvalitu výrobku rozhodující kvalita a trvanlivost sváru. Mnoho technických idejí konstruktérů je spojeno se svařováním moderních a nových materiálů a jejich slitin.
Téměř pro všechny materiály a svářecí technologie nabízí ABICOR BINZEL optimálně přizpůsobené svařovací a řezací hořáky, plynem a kapalinou chlazené, pro ruční i strojní svařování. Samozřejmě k tomu patří požadované příslušenství svařovacích hořáků a pracovišť, stejně jako rozsáhlý program robotových svařovacích hořáků a periférií.
Společnost Alexander Binzel – svářecí technika spol. s r.o. Hořice dodává v rámci své obchodní činnosti celý sortiment výrobků pro ruční, strojní i robotizované svařování včetně příslušenství, náhradních dílů, záručního a pozáručního servisu. Mimo to zajišťuje pro své zákazníky technické a technologické poradenství v souvislosti s celým ABICOR BINZEL sortimentem.
Naše cíle
Spokojenost a prospěch všech našich zákazníků je středem naší strategie.
Toho chceme dosáhnout s pomocí kompetentních spolupracovníků ve všech oblastech naší činnosti, celosvětovou intenzivní výměnou poznatků s uživateli našich výrobků, intenzivní spolupráci s rozhodujícími přestaviteli v jednotlivých oblastech svařování, instituty a universitami.
Naším záměrem je trvalé uspokojování potřeb, požadavků a překračování očekávání zákazníků společnosti. To považujeme spolu s péčí o jakost poskytovaných služeb za prioritu, která je věcí nejen vedení společnosti, ale i všech zaměstnanců bez výjimky.
Našim zákazníkům chceme nabídnout příjemné vystupování, profesionální a rychlé jednání a kvalitní služby, za optimální ceny. Na tom pracujeme společně se zaměstnanci ve smyslu naplňování naší vize: "Spokojený zákazník, prosperující firma".

Cílem celého mezinárodního ABICOR BINZEL kolektivu spolupracovníků je:

Každý ABICOR BINZEL výrobek prezentuje celosvětově nejnovější stav techniky.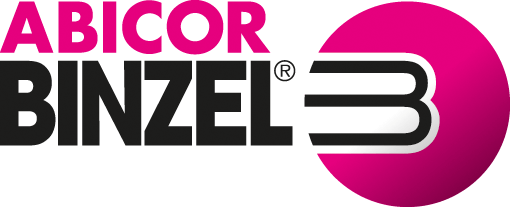 ABICOR BINZEL svareci technika spol.s.r.o
Antonina Rudla 2270
50801 Horice
00420 493 621 937
00420 (493) 654 712
ABICOR BINZEL world-wide - everywhere at your side ...