"TECHNOLOGY FOR THE WELDER'S WORLD."
It isn't a slogan.
It's a promise to continuously better the world of welding through quality and innovation.
At ABICOR BINZEL we strive to create the very best in welding and metal joining technology, products, and innovations. Our state-of-the-art research and development headquarters in Giessen, Germany ensures a premium, high-performance product with ultimate user safety and comfort.
Our MIG, TIG, Laser and Robotic welding torches are the best on the market. Ergonomic liquid cooled and air cooled models are available to accommodate every task. We also carry a wide range of innovative, one of a kind welding accessories that improve welding performance whether automated or manual.
We take pride in our products and make them available worldwide with a network in over 50 countries and spanning five continents. Our ISO 9001 membership ensure our products conform to the highest industry standards domestically and abroad, and are easily compatible with all the major welding machine manufacturers in the industry.
The ABICOR BINZEL Australia and New Zealand Office in Melbourne features complete MIG, TIG and Robotic torch customising and repair facilities. Our sales staff cover all of Australia and New Zealand with an extensive knowledge of both our products and the requirements of local industries. We also work with our customers to provide customized welding solutions to meet your unique plant and manufacturing needs.
Welding technology makes life better!
Your direct way to our products
What's up? Our blogs - always up to date!
E-books on main topics
Explore the most discussed topics in the welding industry - and look forward to answers to many questions that concern users as much as company owners. Proven methods, performance indicators and evaluation criteria provide detailed information. Researched, compiled and supplemented through many years of experience by the world's leading welding experts from ABICOR BINZEL.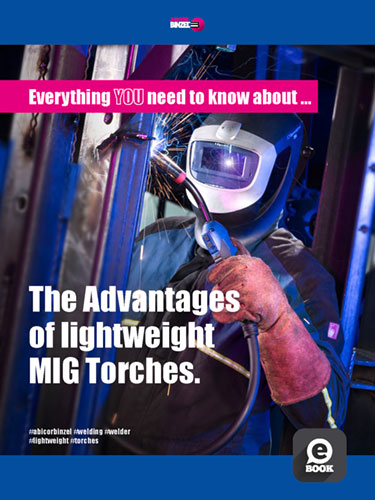 The Advantages of Lightweight MIG Torches
It takes the right tools to make the welder's job easier and increase his passion for welding. For physically demanding work, the welding torch should be as light and ergonomic as possible. In the eBook "Everything you need to know about the advantages of light MIG/MAG torches", expert knowledge about the advantages of light welding torches is provided on more than 20 pages in a compact, clearly arranged and scientifically proven manner.
The Complete Guide to Fume Extraction
No matter whether you want to get started with welding fume extraction or learn more about it - the eBook "Welding fume extraction - challenges and opportunities. Health protection concerns us all" avoids questions on the subject. Over 40 pages show different solutions for fume extraction, requirements to be observed, alternatives on the market and answers to the most common FAQs.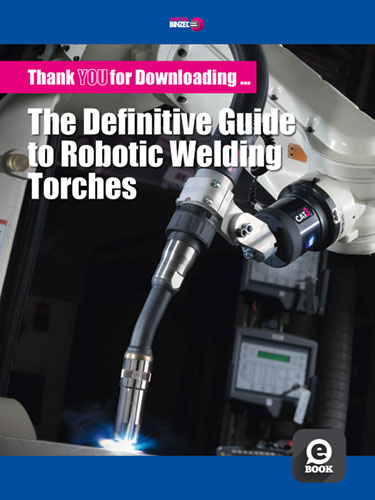 The Definitive Guide to Robotic Welding Torches
More than ever, increased efficiency in production and simultaneous cost reduction count – this increases the use of welding robots. The e-book »The Definite Guide to Robotic Welding Torches« provides almost 30 pages with all the important information about robotic welding torches and what you can do to optimize your own automated welding processes.