The modular design of the rugged, yet flexible, ABIROB® torches allow the user to replace the swanneck or cable assembly while maintaining tool center point (TCP), assuring accurate repeatability and continuous precision welding. The keyed torch mounting-arm duplicates TCP with complete torch change. Available in 360 and 500 amperes, ABIROB® torches are second to none with aluminum armored swannecks for crash protection, internal air blast, internal control wire, emergency stop connector, and heavy duty cable support springs at front and rear to prolong cable life. Direct mounts allow ABIROB® torches to connect to most major wire feed models.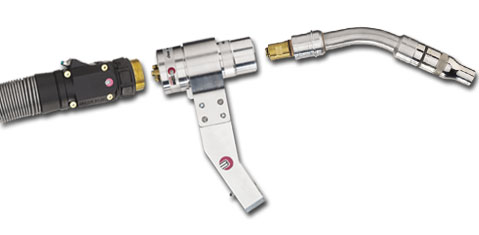 For the download of the catalogue and the spare parts list as a PDF-file "click" here.
Further information (manual, ordering information etc.) you will find here.