For exact torch neck geometry ...

The alignment jig makes it possible to check and re-adjust the geometry of ABICOR BINZEL® replacement neck torches outside the welding cell. The alignment jig is fitted with a guiding body which can be mounted in position according to the torch geometry.

Using a special fitting set the flow quantity and air-tightness of the replacement neck torches can be checked and the gas channels can be blown through with compressed air for cleaning purposes.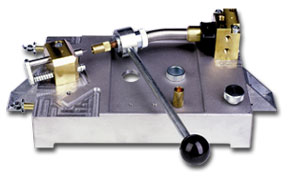 For the download of the catalogue and the spare parts list as a PDF-file "click" here.
Further information (manual, ordering information etc.) you will find here.