Accessories for Professionals
For best results …

… in the welding process - last but not least responsible are professional accessories . Ideally matched they form the basis for functional safety and a long service life. Qualitatively high-grade welding accessories increase the performance and reliability of your torch. Don't leave anything to chance in your pursuit of perfection. Rely on original welding accessories from ABICOR BINZEL.
ABICOR Binzel Welding Chemicals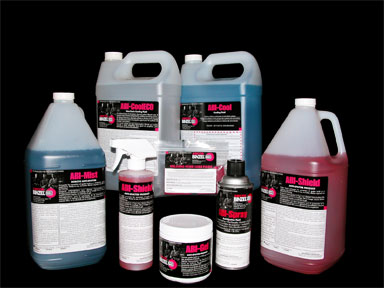 ABICOR Anti-spatter: Helps prevent spatter build up on base metals and reduces part clean-up time. Ready to use, no mixing, stirring or diluting required. Non-toxic and non-hazardous for welder safety and easy handling.
ABI-Mist - Specifically designed for robotic applications. Water soluble, non-toxic.
ABI-Spray - Non-flamable, paintable aerosol anti-spatter.
ABI-Shield - Standard anti-spatter. Water based, no dilution required. Not affected by freezing.
ABI-Gel - Nozzle tip dip anti-spatter. Protects nozzles, tip, positioners and fixtures.

ABICOR Coolant: Year-round protection for water-coolers. Lubricates pump and prolongs seal and shaft life.
ABI-Cool - Ready to use water and ethylene glycol based coolant. Protects from freezing down to -32˚F/-35˚C.
ABI-CoolECO - Non-toxic, propylene glycol based coolant. Not regulated by OSHA. Protects from freezing down to 10˚F/-12˚C.
*Should be changed annually to maintain maximum protection and lubrication
ABICOR Binzel Welding Wire Lube Pads - Pre-treated and ready for use, lube pads reduce friction in wire feed units, increase tip and liner life and remove dust and dirt particles. Just clip the pad onto the wire feed prior to the liner conduit.
For Material Safety Data Sheets (MSDS) please click here .
BWC-3 Water-Cooler: Achieve maximum cooling and easy maintenance with the recirculating coolant system for water-cooled TIG torches and MIG guns.

Tungsten Electrodes - ABICOR Binzel offers a variety of 6 electrode types including pure tungsten, thoriated, lanthanated, ceriated and zirconiated. Standard electrode lengths are 3 and 7 inches with additional length options available.
For the download of the catalogue and the spare parts list as a PDF-file "click" here.
Further information (manual, ordering information etc.) you will find here.