Robot programming to the point!
The programming aid ABIDOT is simply screwed onto the robot torch instead of the gas nozzle for the programming process. Instead of taking the wire, four laser beams simulate the stick-out – completely touchless. Known problems like the bending of the wire while touching the workpiece are a thing of the past. This makes the programming process easier in multiple ways.
The process-related wire stick-out can be adjusted with a scale on the ABIDOT. This facilitates in obtaining the correct distance during programming, the optimum wire position and penetration during welding.
The optimum TCP (Tool Center Point) is reached when all four laser LED's combine to only a single focal point on the workpiece – really clever!
System Overview: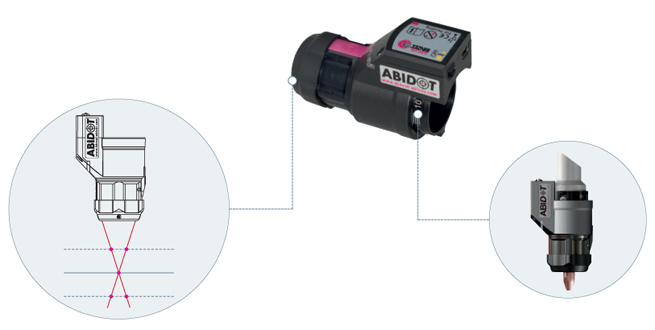 Advantages that speak for themselves:
ABIDOT shortens programming times considerably
ABIDOT increases the quality of the welds through optimum positioning and consistent spacing of the torch to the workpiece
ABIDOT reduces the costs for programming times and offers savings through reduced rework and quality control